What does it mean to be a Christian?
That question may not be as easy to answer as it would appear on the surface. And, depending on your church background, here are some of the potential answers you may offer:
A good person who goes to church.
Someone who lives by a set of morals taught in the Bible.
A person who has been baptized.
People that have accepted Jesus.
A person who prays and reads the Bible.
Someone who has confessed their sins and trusted Jesus to save them.
While all of these are decent answers, some get to the true point of Christianity more than others. They also all reflect a modern church view of what it means to be a Christian. In 1942, CS Lewis addressed a number of misconceptions about Christianity through a series of broadcast talks, or speeches given in sequence over a radio broadcast. These talks were later compiled into one of the greatest modern Christian works in the volume Mere Christianity.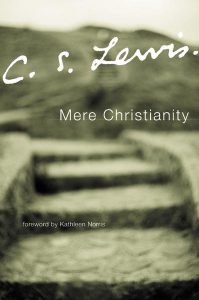 Lewis defines Christian belief as "if we somehow share the humility and suffering of Christ we shall also share in His conquest of death and find a new life after we have died and in it become perfect, and perfectly happy creatures. This means something more than our trying to follow His teaching…In Christ a new kind of man appeared: and the new kind of life which began in Him is to be put into us."[1] Think with me just a moment about the implications of that statement alone. Being a Christian is not just doing what Jesus says. Should we as Christians obey the teachings of the Bible? Absolutely! However, we cannot merely rely on external obedience as Christianity is not just a lifestyle. Christianity is an altogether different life!
Through the pages of Mere Christianity, Lewis continues to press upon our hearts and our minds the fullness of this new life. Specifically, Lewis argues how four cardinal virtues frame a life of morality[2] and that these virtues are available and readily seen in many regardless of their faith in Christ. These virtues are prudence (practical common sense)[3], temperance (understanding and maintaining the limits of pleasure)[4], justice (fairness in all things)[5], and fortitude (courage to face danger and courage to stick it out under pain).[6] The question then becomes how a Christian should function in society. This, according to Lewis is the process of us becoming the sort of people who would truly apply Christian morality to the world if we saw how to.[7]
That point, for me, is the crux of the book. He goes on to speak in detail in part three of the difference a Christian worldview makes for morality in the realm of sex, marriage, forgiveness, and "the great sin" (this, he refers to as "pride, or self-conceit"[8]). The final portion of the book is spent on theology. If you know me well, you know how important I believe theology is to the Christian life. Let me rephrase that. Not just theology, but proper theology derived from the Bible. That being said, I will not spend much time here discussing either the theological aspects of section 4 in Mere Christianity, nor will I spend a tremendous amount of time speaking to other parts of section three.  My time now will be spent on the phrase "the job of becoming the sort of people who really would apply it if we saw how"[9], which is in reference to doing what we see God's direction to be.
For years I have squabbled over that phrase in my heart and in my mind. I bought a copy of Mere Christianity in January 2005 at the Barnes and Noble at Arbor Place Mall in Douglasville, GA. I had been at my sister's (she lived very close to the mall at that time) and I wanted to use some Christmas money to buy a couple of thought-provoking books on our faith. After perusing the aisles for a while, I settled on this and The City of God by Augustine. In the three days I had before my final semester at Mercer would start, I devoured this book and this little phrase stayed with me. In fact, I believe that it is this little phrase that gives the rest of the book, and the rest of our lives as Christians, its fullest meaning. How do we become people who apply what we know the Bible teaches to the every day routine of our lives? Can the Christian life be true if this is not who we are?
I believe the greatest misstep that many of us make in our Christian lives is when we do not let the Scripture function as our sole guide. In my first pastorate, a church member made the passing comment to me on the first pastor appreciation day I was there. He said, "I guess the greatest thing that we could do to show appreciation for you as a pastor is to show how your sermons affect our every day lives." That statement meant a lot to me. But, I think he stopped short. The greatest thing we can do to show appreciation for the Christ who saved us is to show how His Word affects our every day lives.
Honestly, church, this is one reason why we must speak out when we see injustice. We can wear our WWJD bracelets, whether externally or internally. But, does that matter if we do not actually do what Jesus did? I have spoken on this issue many times across the years I have been in ministry because it is dear to my heart. If the Bible says that we are all created in the image of God, we must honor and respect each other as image bearers. Honor and respect is not merely an internal disposition. It also carries the burden of action in accordance with that disposition. It baffles me how many times we shade our view of justice based on our political party…whether blue or red!
Seeing what the Bible has demonstrated for us in terms of rejection of ethnic pride or nationalism and then to bathe in this stream defies what it means to be Christian. Remember, the question is "How do we become people who apply Christian morality when we see it modeled for us?" Paul says it this way in Philippians 3: "I was circumcised when I was eight days old. I am a pure-blooded citizen of Israel and a member of the tribe of Benjamin – a real Hebrew if there ever was one! I was a member of the Pharisees, who demand the strictest obedience to the Jewish law. I was so zealous that I harshly persecuted the church. And as for righteousness, I obeyed the law without fault. I once thought these things were valuable, but now I consider them worthless because of what Christ has done. Yes, everything else is worthless when compared with the infinite value of knowing Christ Jesus my Lord. For His sake, I have discarded everything else, counting all as garbage so that I could gain Christ" (Philippians 3.5-9, NLT).[10]
Please let me be clear. It is not sinful to love America or to love being an American. However, if we love America too much, we become guilty of making Americanism a pre-requisite of the Gospel. Further, it is not a sin to be white and it is not a sin to be black. It is not a sin to be Hispanic, Asian, or Middle-Eastern. To identify any ethnicity as superior devalues the image of God in other ethnic groups and makes whiteness or blackness and anything in between a qualifier to true Christianity and this is foreign to the New Testament. Paul said I was not only a Hebrew, I was a Benjaminite. I love the NLT "a real Hebrew if there ever was one." We can readily Americanize this as "a true Patriot if there ever was one." But, the Gospel shows how we are Christian first and foremost!
I bring this issue to light because I have seen this particular issue wreak more havoc within the church than anything else. We have been inoculated on both sides to a racial stigma that must be called out and rejected. Let us see the Gospel rise higher and higher as we proclaim truth. America is not in the Bible. Republicans are not in the Bible. Democrats are not in the Bible. Capitalism is not in the Bible. Socialism is not in the Bible. We devalue others when we allow these labels to color how we will view or listen to another person. The book of Romans tells us "outdo one another in showing honor" (Romans 12.10, CSB). Too often, this is not what we do. It brings us back to the question "How do we become people who apply Christian morality when we see it modeled for us?"
Yes, I could go on and on about this topic. I could bring to light any other issue along the lines of Christian morality. The New Testament covers them, right? So, let me ask you one last time "How do we become people who apply Christian morality when we see it modeled for us?"
It is in this answer that we will find the freedom to be people of the Cross. We will see the end of sins reign in our lives. We will see Christ living in us. We will find a greater joy because of it.
This book can be found on Amazon: https://tinyurl.com/yxbt5nzq
[1] C.S. Lewis, Mere Christianity, HarperCollins ed. (San Francisco: HarperCollins, 2001), 60.
[2] Lewis, 76.
[3] Lewis, 77.
[4] Lewis, 78.
[5] Lewis, 79.
[6] Lewis, 79.
[7] Lewis, 88.
[8] Lewis, 121.
[9] Lewis, 88.
[10] Scripture quotations taken from the Holy Bible, New Living Translation, copyright ©1996, 2004, 2015 by Tyndale House Foundation. Used by permission of Tyndale House Publishers, Inc. Italics added for emphasis.