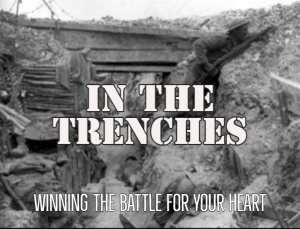 Attention Men! Join us for an exciting and impactful weekend at First Baptist Fairburn on Friday April 28th and Saturday April 29th. Our men's discipleship weekend, themed "In the Trenches: Winning the Battle for Your Heart," is designed to equip you with the tools you need to successfully defend your heart against life's battles. We are thrilled to have Tommy Lewis, head football coach at landmark Christian school, as our key speaker for the weekend.
On Friday night, you'll be treated to a delicious steak dinner, followed by a powerful worship session and a thought-provoking Bible teaching from Coach Lewis. You'll then have the opportunity to participate in a breakout session where you can begin to map out a battle plan to defend your heart. On Saturday, the day will begin with a hearty breakfast, followed by two worship sessions, two more teachings from Coach Lewis, and two battle plan workshops.
Don't miss this incredible opportunity to connect with other men and deepen your relationship with God. The cost of the event is only $35, which includes all meals and materials. You can pay for your spot through our online giving. Register now and get ready to go "In the Trenches" with us!
Here is a full rundown of our schedule for the weekend:
Friday, April 28 – 6.30 – 9 pm

6.30 – Steak Dinner
7.15 – Worship
7.45 – Break
8.00 – Strength Training: Finding Solid Footing – Tommy Lewis, LCS Head Football Coach
8.30 – Battle Plan: Defending Home

Saturday, April 29 – 8.30 -11.45 am

8.30 – Breakfast
9.00 – Worship
9.30 – Strength Training: Addressing the Core – Tommy Lewis
10.00 – Coffee Break
10.15 – Strength Training: Displaying True Power – Tommy Lewis
10.45 – Worship
11.15 – Battle Plan: Attacking Evil
11.45 – Dismiss
Follow us on Facebook, Twitter, or Instagram for updates.
Registration for this trip has closed.