I don't know about you, but I like being loved. Whether it is a hug and kiss from my wife when I walk into a room or my two year old wanting to snuggle next to me as we watch Donald Duck or a card of appreciation in the mail, it feels nice to be loved. I am not a psychologist, but I am convinced that everyone likes being loved…even if we don't know how to receive love properly (that is another post for another day…when I have more time to research psychology). It is nice to be loved.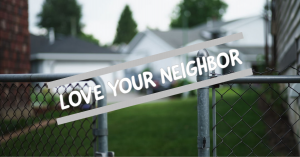 Now, if you like to be loved and I like to be loved, wouldn't it be fair to assume that people need to be shown love? I think this is why we find commands in Scripture to love our neighbor, to love one another, and to show honor to others as well as many other statements in the Bible that are similar. The Gospel is an outward demonstration of God's love for people. As God's people, it should be natural for us to imitate Him. If it is not already natural for you, then we, as the Church, work together to allow it to become natural for us.
Last week we started this conversation from 1 Peter 3.8-12 about loving our neighbors. If you missed it, you can pick it up here. We established last week that there are certain imperatives that come with being a follower of Christ. These are the "do this" or "be this kind of person" statements we find throughout the Bible. You can call the rules, but they aren't just rules. They are descriptions of the heart that loves Jesus most. As we look at verse 9, we are going to consider the affect that the imperatives of verse 8 take on our lives.
We have been blessed with the presence of God. I start with the second half of verse 9 to lay out the foundation for what comes next. Peter deals with the idea that we have been called to a higher purpose because of our faith in Jesus Christ. As a sidenote, the word that we translate as "church" from the new testament could literally be rendered "the called out ones". Did you catch that? You and I have been called out of the normal flow of society to something greater. Here, Peter notes that it is a blessing! You don't say the blessing before a meal, you thank God for His blessing. You don't tithe because you "owe it to God", but to demonstrate thanks for the fact that He has blessed you with a job and resources. In regards to our passage here, you don't love others because you can benefit them. You love others because you have been blessed by God to be His child!
Being blessed by God changes the way we respond to others. It could be argued that your love for someone is not demonstrated in how you treat them when all is good, but in how you treat them when all is not good. This is the Gospel at work in you. How did God respond to you when things weren't good? He sent His Son to die in your place and take the penalty for your sins (Rom 5.6-9)! So, Peter's logical line in verse 9 is that our response to others is conditioned by the fact that God has blessed us with His presence. Just to be clear, Peter lays out some parameters for it: 

We do not retaliate in deed. The first case we find is rendered "not returning evil for evil". This is likened to Jesus telling His hearers in the Sermon on the Mount to "turn the other cheek." No, the Gospel does not call us to be a doormat or to yield to continual abuse. It does, however, challenge the motivation for our response to others. If what is in our heart is the love of God compelling our love for God, then we see the evil actions of others as an opportunity to respond in love. This is not a call to ignore. Ignoring the problem is not love. Ignoring the problem is turning an indifferent heart towards evil, when we are to expose evil in this day. Your neighbor may be a jerk. Love him. Difficult people need love…maybe even more than others around us. Their action against you is another opportunity to show them love.
We do not retaliate in word. Go ahead and scrub your social media. It is so easy to type words that we would never actually speak to someone's face. This is a heart motivation that is not hindered by the physical world. You don't say it to them because you have to face them and may be struck in the face by them. It is an election year, we are in a state of quarantine, and 2020 is not what we hoped it would be. It is a brewing pot of emotion and calloused isolation that tip all of us over the edge. Peter's admonition that we not return "insult for insult" goes beyond what he said about your mama. It speaks to the deeper need that all us feel that we must defend ourselves. Most of the time, our defense is not actually in order to defend ourselves, but to launch a counter attack on our "enemy" of the moment. This could be in your marriage, your workplace, or your neighborhood. The affect that the Gospel has on our words is filtered through a heart that wants to love first and speak last.
Blessing is on the tip of our tongue. If we remove retaliation from our heart, what remains? A desire to bless!
I guess the question that we are left with today is very simple: what can I say or do to bless my neighbor today? Today is a new day to love your neighbor. The blessing you give or speak may be the only blessing your neighbor receives. The blessing you give or speak may be what God uses to open their heart to Him.