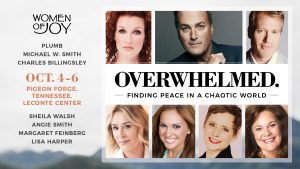 Women of Joy Fall 2019
We're all in this together! So, you've got your girl friends on board to share this adventure with – a road trip to rejuvenation if you will. Here's the reality of what we do: It's fun. It's fulfilling. It's a weekend you won't forget. These incredible weekends are designed, created and intended to bring women of all ages and cultures together to help you pursue a passionate relationship with Jesus Christ. We truly believe that in our society today women are so busy with life that we never slow down long enough to work on our relationship with Christ and with other women. At Women of Joy, we make these relationships our main priority. Whether you are on a lifelong adventure of drawing closer to Christ or are just figuring things out, make Women of Joy part of the journey. You will find an endless supply of encouragement and an atmosphere that refreshes your soul. Together we will seek God, search for answers, rest from the daily grind, and find a connection with other believers
Schedule of Events:
We will plan on leaving FBC Fairburn on Friday morning, Oct 4 as we travel to Pigeon Forge. This will allow us time to grab lunch en route and check into our hotel in plenty of time to freshen up, grab dinner, and make it to the conference. Below is the schedule for our speakers and events during the weekend.
Friday
5:30 pm             Doors Open
7:00 pm             Main Session    Sheila Walsh
9:00 pm             Concert             Plumb
Saturday
7:30 am             Doors Open
8:30 am             Main Session    Angie Smith
10:00 am           Break
10:30 am           Main Session    Margaret Feinberg
12:00 pm           Free Time
8:00 pm             Concert             Michael W. Smith
Sunday
8:00 am             Doors Open
9:00 am             Main Session    Lisa Harper
We will leave Pigeon Forge around lunch on Sunday, Oct. 6.
Conference Rates:
We want to offer affordable and comfortable accommodations for the conference. The rooms can be reserved for up to 4 ladies per room. The cost of the conference and accommodations are dependent on how many people will share a room. The accommodations will be comparable to a Holiday Inn Express or Comfort Suites. In order to secure the best rate, we will take reservations through Sunday, June 9, 2019.
Standard Accommodations
Before July 10               After July 10
4 Per Room       $179 Per Person            $189 Per Person
3 Per Room       $199 Per Person            $209 Per Person
2 Per Room       $229 Per Person            $239 Per Person
1 Per Room       $359 Per Person            $369 Per Person
Though it will be helpful, you do not have to know who you will room with when you sign up. However, please indicate when you sign up which rooming option you are choosing as it will affect your final cost.
Extra Costs for the trip:
Meals: We will be responsible for our own meals, except for breakfast on Saturday and Sunday. You will need to bring money for lunch and dinner Friday and Saturday, as well as lunch on Sunday. There are many snack shops and vendors in and around Pigeon Forge as well.
Conference vendors (optional): Each of the speakers will have books and other resources available for purchase at the conference. Michael W. Smith, Plumb, and Charles Billingsley will also have albums and other musical resources available.  Women of Joy also has many 3rd party vendors (jewelry, shirts, mission and ministry) who will be set up in the conference hall. Shopping these vendors is not required for the conference, but we wanted to let you know that they would be present.
Shopping/Free time (optional): On Saturday afternoon, we will have several hours of free time before the Michael W. Smith concert. This is a great time to get out with some of the girls for an afternoon of fun. There are outlet malls, museums, and novelty shops and attractions all over Pigeon Forge. All of these are at your own leisure and expense.
Sign up: To sign up, a non-refundable deposit of $50 is due by June 9, 2019. The full balance of the conference rate (listed above by person per room) is due by Sunday, August 25, 2019. Be sure to indicate your # per room preference when signing up. If you have any questions call or email Christi Hill 864.490.0605 or cmdubya@gmail.com.
You can pay your deposit by clicking here.