Our doors are open for in person gatherings to worship!
We are excited to reopen our doors for congregational worship, but we are proceeding with caution. Given that the numbers of new COVID19 cases and hospitalizations around us is extremely high, we do encourage you to consider watching our 10 am live stream at www.fbcfairburn.com/live or on Facebook at facebook.com/firstbaptistfairburn. We also understand that you may want the in person worship experience, so we are not going to turn your family away!
In order to be sure that we can accommodate everyone who plans on attending, we are asking people to preregister for our 10 am worship service. You can easily do this online by clicking on this picture that will redirect you to our registration page: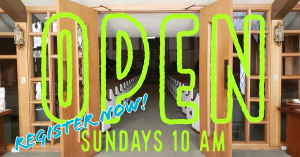 Once you have registered, you will receive an email confirmation. This lets you know that we have you down for worship that morning! We also know that plans may change, so the confirmation email also gives you the ability to modify or cancel your registration. All this will do is help us provide the right space and seating for worship over the next several week.
Just a couple of quick tips and reminders for our worship gatherings:
We are not requiring anyone to wear a mask, but we do STRONGLY recommend that you bring one with you. We will have masks available for attendees who do not have a mask with them that morning and decide they would like one.
We will be placing hand sanitizer stations throughout our facilities that are touch-free.
If you are feeling ill or have any symptoms of sickness, we respectfully ask that you cancel your registration.
Offering taken on campus will be through wall mounted boxes. You will not have to worry about touching an offering plate that has been pass around.
There will only be two entrances open for our worship services: the doors entering our sanctuary from the drive through drop off and the metal doors that enter through the stairwell. We will have greeters at these entrances for both services to keep anyone from having to touch the door handles.
Doors for the worship service will open 15 minutes prior to the start of service.
The L Hall bathrooms will be the only bathrooms open for the time being in order to minimize surface contact and spaces used to start.
We will not be passing out bulletins when you arrive. Pastor Evan will have a sermon outline posted at fbcfairburn.com/live by Friday each week. If you like to follow along with the sermon, please print and bring a copy with you. This will minimize hand to hand contact on Sunday mornings.
We will continue to offer a live stream of our worship service on Facebook Live and at fbcfairburn.com/live.
We want you to know how excited we are to be gathering again. Your presence is such a blessing, so we want to make sure you know that we are eager to have you with us AND we are taking many extra precautions to protect you and your family as we worship together.
Begin praying now for our church as we prepare to gather again. See you Sunday!